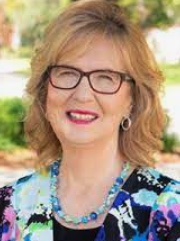 Voter demographics are changing in Florida. Find out what that means for us when Dr Susan MacManus speaks at Manatee Patriots Tuesday, January 11, 2022 at 6 pm at Mixon's Fruit Farms.

Thank you to those who brought sodas on January 4. We still need several more 2-liter bottles to be stocked up. Will you help?
About Manatee Patriots' Snack Bar
To allow our kitchen volunteers to clean up and put away, please get your food and beverages by 7:30 pm.
Following up on Angel Harrelson's talk at Manatee Patriots on January 4, 2022
See Documentary about January 6—And Write to Gov DeSantis
Click the picture above to view the trailer for "Day of Outrage".
When Angel Harrelson, wife of January 6 prisoner Ken Harrelson, spoke at Manatee Patriots on January 4, 2022 she mentioned she is part of the documentary Newsmax is airing about January 6 and the government's tyrannical response. Angel also asked us to pray for the prisoners' release, and to write to Governor DeSantis to help free the Americans being held prisoner. See below for a sample message to the governor and for information about the documentary.
The documentary, "Day of Outrage," was produced by Newsmax to accurately and fairly detail the events related to the Capitol siege of January 6.
"Day of Outrage" premiered on Newsmax Wednesday, January 5, 2022 and will repeat throughout the weekend. Please check Newsmax TV.com for air times.
Contact Gov. DeSantis on Behalf of the January 6 Prisoners
You can email, call or write a letter. Please contact Gov. DeSantis today. Below is a sample message.
Dear Governor DeSantis,
American citizens, some Florida residents, are being unconstitutionally held in prison for being in the Capitol January 6, 2021. They are denied bail, religious services, medical care and more. This must stop! We are counting on you to do all you can starting today to free these citizens, many of whom are veterans.
GovernorRon.Desantis@eog.myflorida.com
Office of Governor Ron DeSantis
State of Florida
The Capitol
400 S. Monroe St.
Tallahassee, FL 32399-0001
(850) 717-9337
Manatee Patriots prayer meetings are back — join us at 4:30 pm. We pray for our leaders, our county, state and nation and whatever else is on your heart. See you at 4:30 pm in Honeybell Hall.
Plus our action teams meet each week after our speaker. You'll learn what the team is planning and what they've been doing. Don't miss out! See you at Manatee Patriots (formerly Tea Party Manatee) Tuesday at 6 pm at Mixon's Fruit Farms.
Here are the action teams:
1. Election Integrity
2. Manatee County Schools/Textbooks/Candidates
3. Manatee County Government/Candidates
4. State Legislature
5. Constitution/Assembly/Grand Jury/Education
Read on to be informed about important events and simple actions you can take to make a difference.
In this Email
• Consider Giving to the GiveSendGo Fund for Angel and Ken Harrelson
• YOUR Help is Needed—Support Jack May, Dean and Janet Mixon
• Dr Susan MacManus Bio
• Register for DEFEND 2022 to Secure Florida Elections in 2022
• From Kevin Wright—Check out Military Matters


Who: Dr Susan MacManus
When: Tuesday, January 11 at 6 pm
Where: Mixon's Fruit Farms Honeybell Hall
2525 27th St. E.
Bradenton, FL 34208
Questions? Contact Manatee Patriots at 941-301-4636 or Email: info@manateepatriots.us
Forward this newsletter to a friend!
Our meetings are free, informal and fun. You'll meet like-minded patriots, learn about our government and our freedoms, and get encouraged, inspired and informed.
Consider Giving to the GiveSendGo Fund for Angel and Ken Harrelson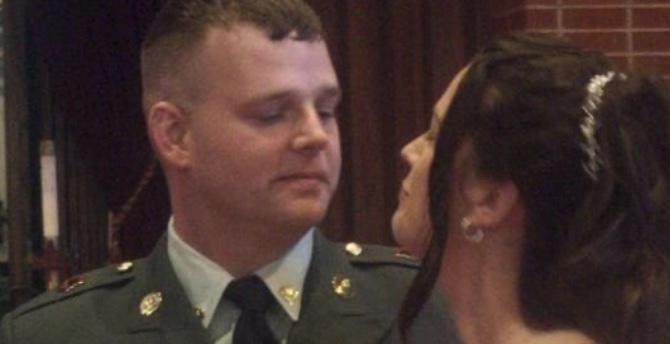 Here is the message Angel Harrelson posted:
Retired Army Sgt. Harrelson, Kenneth and family in need of help with family and legal funds in need of help to pay bills plus some other expenses that is needed as well..
I am Angel(his wife), we have 2 teenage children, daughter 15 and son 17. PLEASE READ UPDATES TO KEEP UP WITH WHAT'S HAPPENING! We need help because well I am sure you've seen the news on him.
I am trying to raise the funds to pay for his legal fees, bills and groceries. I have found an attorney in Washington but it will cost me $100,000 just to retain a lawyer and $500 per hour after that plus other fees, which could cost up to $500,000 the lawyers told me.
I am struggling with this as I am typing this. A little about him. He was medically retired out of the of the army and not long after that he had 2 back surgeries and a shoulder surgery. He is the kind man that will give you the shirt off his back no matter who or what color you are. He has helped many and refuse to charge or take money from them because helping others was his reward. He is the kind of person that when I had my surgery he waited on me hand and foot, even cleaned me up.
I have lost my job because of this and his account has been frozen and that is where his VA benefits go. Since that has happened I can't pay our house note or vehicle note and insurance( that has been unfrozen now but I still have nothing left after only some of the bills get paid).
I am also dealing with emotional teenage daughter and son. Everyone we know can tell you he is not a monster and NOT a TERRORIST. THE TRUTH WILL PREVAIL!!! He didn't' do any of those things they say. He is a protector and saves lives not give harm to others. I appreciate any help donations or prayers for our family.
SO PLLLEEEAAAASSSEEE HELP US I AM BEGGING!!
THANK YOU TO EVERYONE THAT DOES AND EVEN CONSIDERS IT.
Angel Harrelson
You can give by clicking this link.
YOUR Help is Needed—Support Jack May, Dean and Janet Mixon

Your help is needed: Jack May, Janet and Dean Mixon, along with Tea Party Manatee, (now doing business as Manatee Patriots), have been named in a complaint focusing on MP donations to candidates. Kenneth Piper (who recently unsuccessfully ran for chairman of the Manatee County Republican Executive Committee) filed the complaint with the Florida Elections Commission.
Piper is requesting that the state levy heavy fines and possibly even pursue criminal charges for these supposed violations.
Ken Piper is using the courts to silence anyone who disagrees with him. This is a tactic that if not stopped will be used over and over again until freedom of speech is just an idea in the history books.
Jack and the Mixons have worked for many years to make Manatee County a better place, to help elect good political candidates and to hold them accountable once in office. Now they need our help.
The complexity of the code requires that we retain legal counsel in order to protect ourselves and the integrity of Manatee Patriots. Please consider giving towards our legal fund at the Christian-based crowd-funding site, GiveSendGo. You can also donate at our meetings.
You can make your generous donation by clicking this link.
Dr. Susan MacManus Bio


Dr. Susan MacManus is a USF Distinguished University Professor (Political Science) Emerita. MacManus received her M.A. from the University of Michigan and Ph.D. from Florida State University.
MacManus has authored or co-authored numerous publications on Florida politics, including Florida's Minority Trailblazers: The Men and Women Who Changed the Face of Florida Government, Politics in Florida (5th ed., 2019) Ten Media Markets, One Powerful State,Young v. Old: Generational Combat in the 21st Century? and Targeting Senior Voters.
MacManus and her mother, Elizabeth, authored two local Florida history books: Citrus, Sawmills, Critters & Crackers: Early Life in Lutz and Central Pasco County and Going, Going, Almost Gone: Lutz-Land O' Lakes Pioneers Share Their Precious Memories. She is a native Floridian from a citrus-growing family.
From 1998 to 2015, MacManus served as political analyst for WFLA News Channel 8 (Tampa's NBC affiliate). Since 2016, she has been the political analyst for ABC Action News (Tampa's ABC affiliate).
She is a featured columnist on sayfiereview.com—a widely read Florida-based political website. MacManus has appeared on every major broadcast and cable television and radio network and been interviewed by major newspapers in Florida, the U.S., and abroad.
She serves on the UF Bob Graham Center For Public Service Council of Advisors and on the Board of Directors of the Florida TaxWatch Center for Florida Citizenship. She chaired the Florida Elections Commission from 1999-2003 and is Florida's most-quoted political scientist. MacManus is not affiliated with any political party.
From our friends at Defend Florida...
Registration is now open for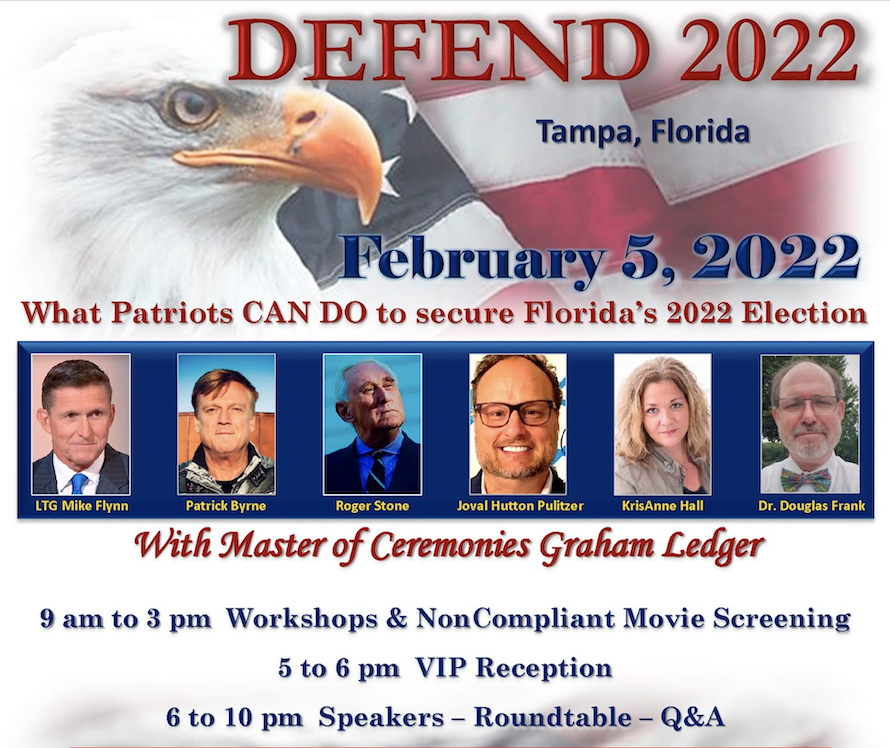 We are pleased to announce that registration for DEFEND 2022 is now open. Join hundreds of your Defend Florida colleagues from around the state to participate in a day of learning and fun.
Hear from a host of celebrated speakers including Gen. Mike Flynn and Patrick Byrne on what patriots can DO to secure Florida elections in 2022.
And roll up your sleeves and receive practical advice on how to stage a successful rally, how to work with local law enforcement to secure elections and much more!
To register, simply click here.

From Kevin Wright—Check out Military Matters

Military Matters' purpose is to educate and inform the community while honoring those who serve and have served the nation in military uniform. Subscribe to the monthly newsletter, follow and like the FaceBook page and look for the weekly Youtube Video Podcast found in all three of these sources.

MILITARY MATTERS NEWSLETTER
Some New Year's Housecleaning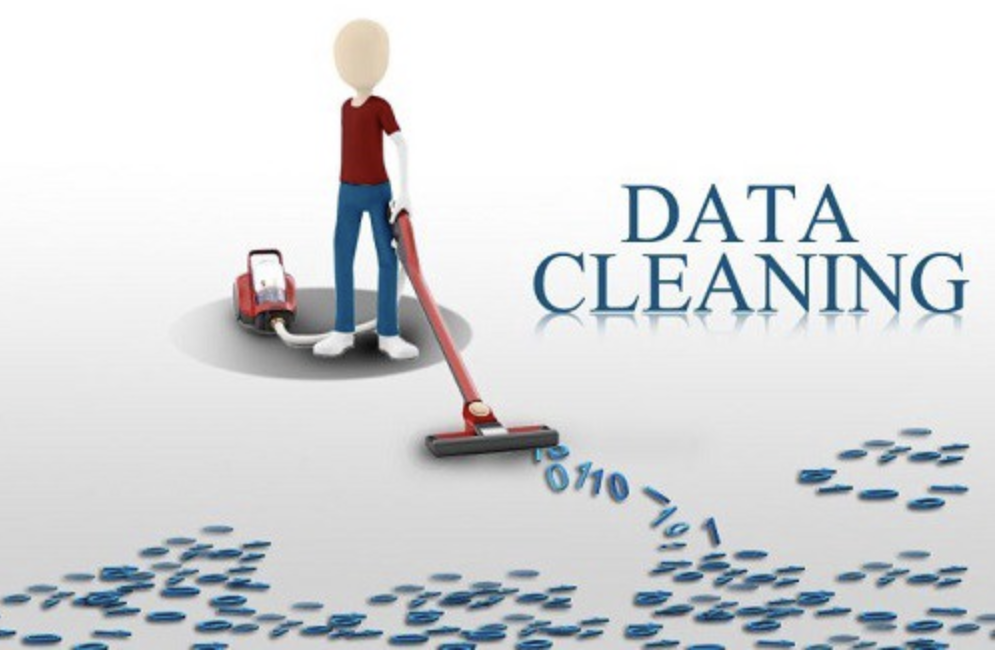 "Ring out the old, ring in the new"
There still remains a number of Manatee Patriots subscribers missing critical information. So we are providing a link so that you may update your information. To do so, simply click this link.

Looking for a Manatee County platform free from censorship?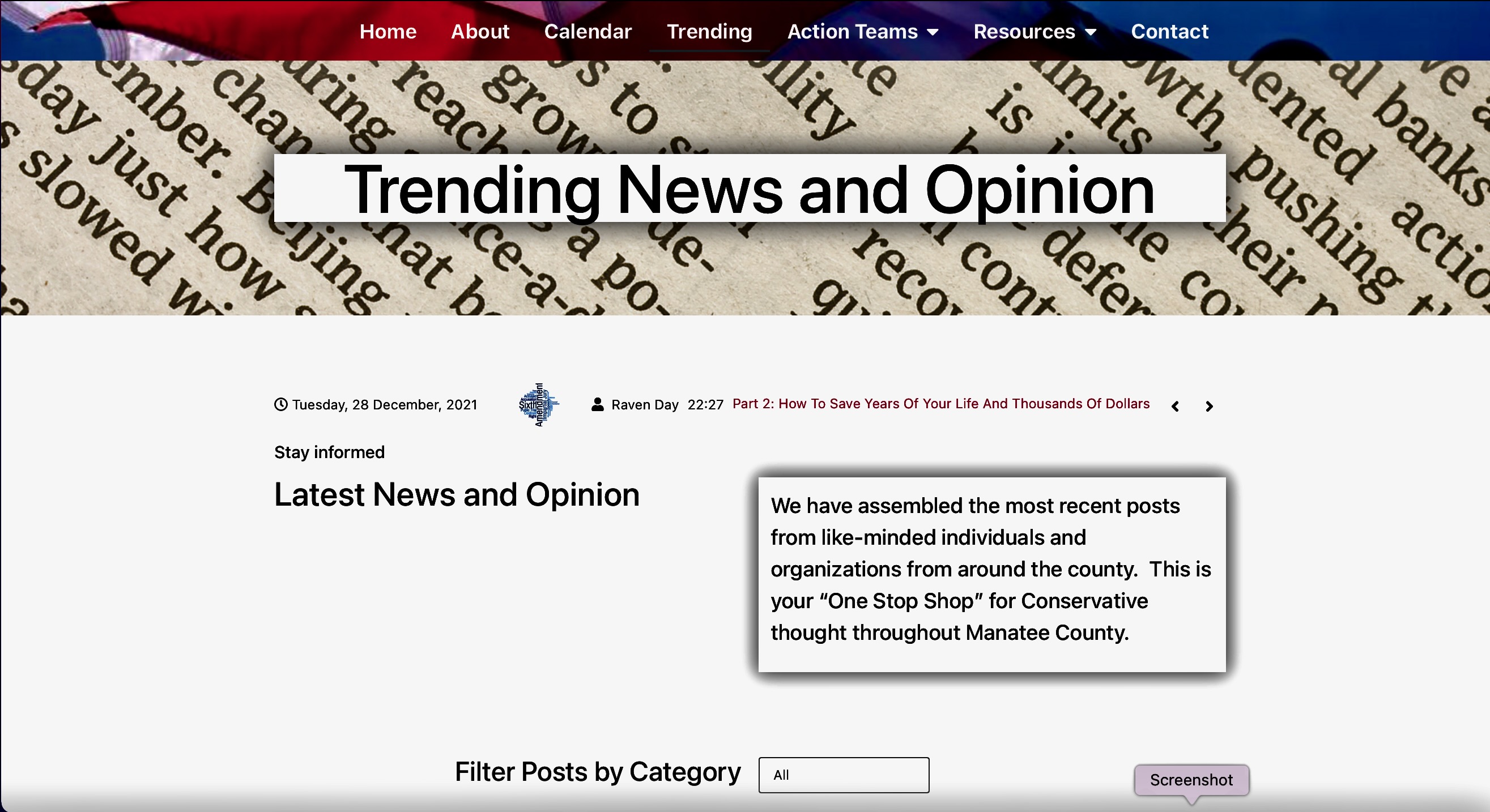 Then read the "Trending" section on our website. We publish posts from Manatee Patriots subscribers entirely free from censorship. So discover what your friends and colleagues have to say! And for those looking to publish some thoughts, be sure to send your post to info@manateepartriots.us.
To check out our blog page, just click here.