You'll get the inside scoop on the takeover of Lincoln Academy from Garin Hoover at Manatee Patriots Tuesday, April 26 at Mixon's Fruit Farms. See Garin's bio below.
NEWS FLASH! Look for Manatee Patriots TEXT on Thursday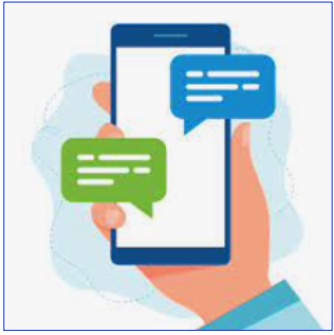 Starting this Thursday, in an effort to expand our audience, Manatee Patriots will send you a text message in addition to the regular Thursday newsletter. The text will include a link to our site, ManateePatriots.us, where you will find our newsletter. You'll learn who our next speaker is, important actions to take and events you can be part of.
On Sunday afternoon we'll send our newsletter out by email as before.
Questions? Want to make sure we have your cell phone number? Text Maureen at 760.613.8628 or email maureenguffanti@outlook.com.
Read on to be informed about important events and simple actions you can take to make a difference.
In this Email
• Garin Hoover Bio
• Help Bradenton Classical Academy Reach Goal
• From Yvette Gaugh: Get Your Ticket Now for Save a Generation Tour
• Hear Michaela Schmidt on the Justin American Radio Hour Wednesday April 27
• Celebrate Mom at Mixon's Mother's Day Brunch
Who: Attorney Garin Hoover
When: Tuesday April 26, 6 - 8 pm
Where: Mixon's Fruit Farms
2525 27th St. E.
Bradenton, FL 34208
Questions? Contact Manatee Patriots at 941-301-4636 or Email: info@manateepatriots.us
Forward this newsletter to a friend!
Our meetings are free, informal and fun, and you can enjoy our free light refreshments at our snack bar. Plus you'll meet like-minded patriots, learn about our government and our freedoms, and get encouraged, inspired and informed.
Garin Hoover Bio
Garin Hoover is a local real estate broker, attorney, volunteer and concerned citizen, and a candidate for Scott Hopes' former Manatee County District 4 School Board seat.
Hoover, a member of the Florida Bar, has a background in insurance defense, property damage litigation and labor law, though he now works full time as a real estate broker. He holds a degree in business administration and a law degree, and has worked as in-house counsel for a Fortune 500 company, and as an associate for a law firm before opening his private law practice.
Licensed to practice Law in both Florida and Ohio, Hoover has also been a credit manager, a stockholder relations analyst and a tax research specialist.
In 2004, he semi-retired from the practice of law, and moved to Florida and started his real estate firm, Hoover Realty.
He serves on the New College Board of Trustees, and he served three years on the Citizens' Financial Oversight Committee of the Manatee County School Board. Garin has a proven track record of being a consistent and principled constitutional Conservative.
From Jean Henderson and Sherri Davidson
Help Bradenton Classical Academy Reach Goal
When those who govern fear the people, they will govern wisely.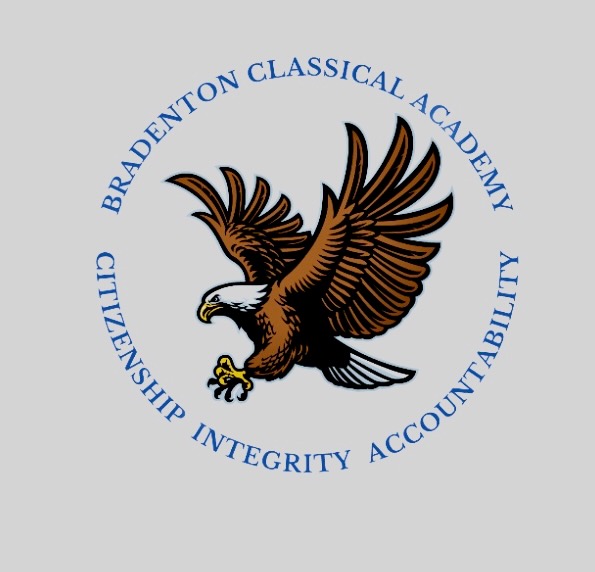 Jean wrote:
"I'm a big fan of Bradenton Classical Academy because it teaches the Constitution, classic courses like handwriting, and promotes critical thinking and problem solving. When completed, it will be a charter school in Manatee County with curriculum per Hillsdale College. It is so needed in Manatee County.
As you know, Sherri (Davidson, founder) spoke at a Manatee Patriots meeting last year. I remember her saying that her granddaughter knew the entire US Constitution by grade 3, impressive!! That's what inspired her to set up the program in Manatee County."
Sherri Davidson wrote:
"We are moving forward and now need some funds! We need to raise $25,000, half of which is needed within the next month. I am sending a link requesting everyone forward it to friends and family so we can reach our goal!
"Please go to Soaring to a new educational experience! | RallyUp. Even if each person we know donated $10 we will reach our goal!"
-Sherri Davidson
from Yvette Gaugh
Get Your Ticket Now for Save a Generation Tour
"Abundant Life in Largo " will be hosting these amazing Doctors, Scientists and Truth Tellers on Thursday, April 28th in Largo. Tickets are available for the upcoming" Save a Generation Tour." Get yours now only $35.
Click on the picture, below, to see information and register for Venice or Sarasota events:
Watch a promo video for the tour here:
https://rumble.com/vzptxx-save-a-generation-tour.html
Speakers include:
Dr. Robert Malone
Dr. Christiane Northrup
Dr. Judy Mikovits
Dr. Carrie Madej
Kevin Jenkins
Dr. Pierre Kory
DC Draino
Jimmy Levy and Hi-Rez(performing)
Robyn Openshaw(aka green smoothie girl)
Hear Michaela Schmidt on the Justin American Radio Hour Wednesday April 27




Don't miss the "thinking person's" conservative talk radio show, the Justin American Radio Hour. The show airs on AM 1490 Bradenton every Wednesday evening, from 8:05-9 pm Eastern time. You can also listen online at https://1490wwpr.com/listen-online-streaming/ and watch on Facebook Live, https://www.facebook.com/IamJustinAmerican/.

For this upcoming show on Wednesday, April 27th, I welcome Michaela Schmidt, Turning Point USA Faith Representative. Michaela and I will talk about Charlie Kirk's organization "Turning Point USA" (TP USA) and how there is a strong faith based component of TP USA specifically targeted at young adults to reinforce traditional Judeo-Christian values. Keep on supporting patriotic small businesses and local media, and we'll see you on the airwaves!
Celebrate Mom at Mixon's Mother's Day Brunch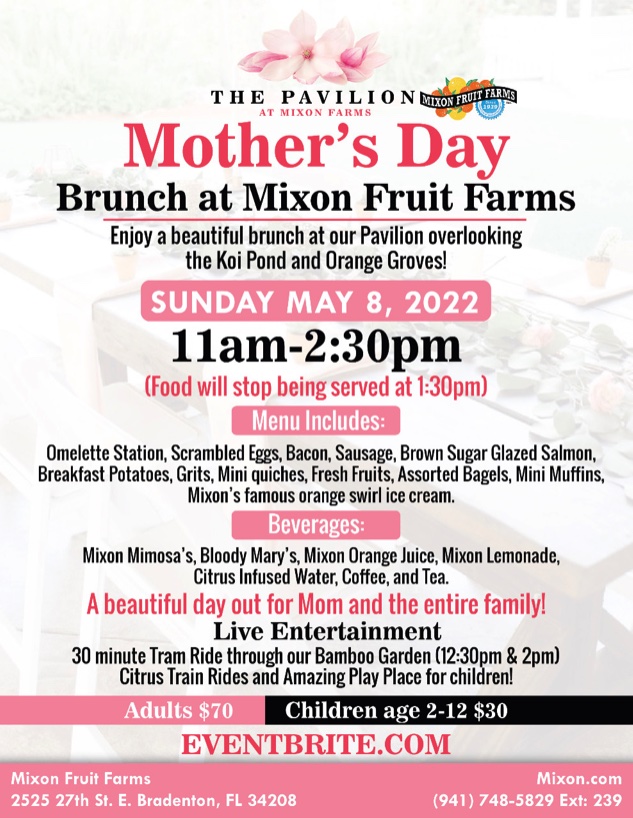 An Informed Citizenry is the best weapon against tyranny!
Now more than ever, Conservatives need to be organized and informed. There still remains a number of Manatee Patriots subscribers missing vital information. So we are providing a link so that you can update your information in order for us to keep you informed on important issues, meetings, and events. To do so, simply click this link.