From Defend Florida: ACTION ALERT! Call One Day—An opportunity for all to get involved and expand our impact!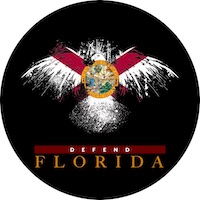 Here is a new initiative by DF that will give everyone a chance to participate in our fight for freedom.
Hi, my name is Debbie Faris and I'm with Defend Florida.
I am spearheading the Call One Day initiative (see below) and I'm reaching out to ask for your direct involvement. (it's easy but important). Thank you so much beforehand for your time and support, I look forward to your response.
Best regards,
Debbie
Call One Day
When those who govern fear the people, they will govern wisely.
The Goal
For Defend Florida to become a politicians worst nightmare or their best ally. Ultimately, for Defend Florida's leadership to be granted a golden pass to any elected or government official so our message and solutions will be enacted with expediency.
The Premise
Save for the few exceptions, most elected officials only care about the voters when it is election time. If we develop the reputation that Defend Florida can summon/activate the voters at a statewide level, they will understand we are a force that can alter (or aid) their political aspirations.
The Opportunity
The "Call One Day" initiative (COD): designate one day a week for Defend Florida's membership and affiliates to flood the politicians with phone calls.. This approach accomplishes the following goals:
1) Legislators will understand we are active and our reach is state wide.
2) Voters will become used to making the phone calls regularly. When we actually need to mobilize our base to influence legislation, the action is familiar and easy.
3) Defend Florida becomes a brand.
4) Voters are engaged and informed via the call script.
The Script
Two types of script: Action and Encouraging.
An example of an Action Script is:
On Monday, please call Wilton Simpson (850 487 5010)
A. Hi Senate President Simpson, my name is ________ and I'm with Defend Florida.
B. I really care about cleaning up the voter rolls, VBM wet signatures, and ensuring that only eligible Floridians are able to vote.
C. Senator Simpson, remember your oath to the US Constitution and the Florida Constitution.
An example of an Encouraging Script is:
On Monday, please call Senator Hutson (850 487 5007)
a. Hi Senator Hutson, my name is _________ and I'm with Defend Florida.
b. I'm calling to thank you for all of your support and a job well done for We the People.
c. Have a great day! We are praying for you.
The How
COD Leaders will receive a weekly script from Debbie. In turn, they will make the call AND send this script to their list of callers. The list of callers should also have their list as well and so on. In other words, create a multilevel call tree.
1. Identify COD Leaders with Jo.
2. Debbie to develop a weekly message with Defend Florida's Leadership.
3. Debbie to send out a message script to COD Leaders who will forward to their downlines.
4. Debbie to track metrics.
You can all join by texting SPEAK to 91776 and you'll receive your first instruction. Keep in mind that one phone call translates into 100 votes. This is something everyone can do that is relevant but easy.