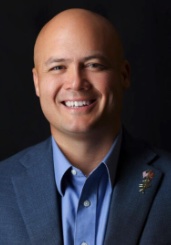 Come hear what Manatee Co Commissioner Candidate District 6 at Large Jason Bearden has to say. Bring your questions for him to Mixon's Fruit Farms Tuesday March 1 at 6 pm. See you there!
Here's an important reminder...
MANATEE PATRIOTS Code of Conduct and Policy of Behavior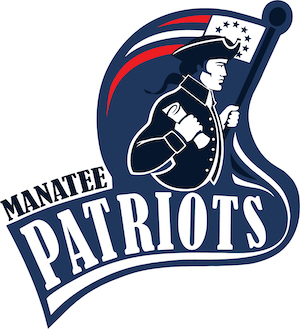 Manatee Patriots adopts a Code of Conduct and a Policy of Behavior for the Board of Directors (BOD) and all of Manatee Patriots that mandates a civil discourse and that we treat each other with the proper respect.
Additionally, any type of threatening gestures, menacing behavior, physical intimidation, or touching in anger will be grounds for immediate expulsion from the BOD and Manatee Patriots. We will have zero tolerance for any such behavior.
—Effective Date June 1, 2021
Read on to be informed about important events and simple actions you can take to make a difference.
In this Email
• Jason Bearden Bio
• From JBS: ACT NOW: With just a couple clicks, tell your US Rep and Senators to abolish OSHA
• Participate in Lou Engel's Jesus Fast Starting March 7
• Be There: Attend Sarasota's 40 Days for Life Spring Campaign Kick-off Wednesday, March 2 at 10:30 am
• Hear Mark Young on the Justin American Radio Hour Wednesday,
March 2
What: Jason Bearden, Dist 6 Manatee Co Commissioner Candidate
When: Tuesday, March 1, 6 - 8 pm
Where: Mixon's Fruit Farms Honeybell Hall
2525 27th St. E.
Bradenton, FL 34208
Questions? Contact Manatee Patriots at 941-301-4636 or Email: info@manateepatriots.us
Forward this newsletter to a friend!
Our meetings are free, informal and fun, and you can enjoy our free light refreshments at our snack bar. You'll meet like-minded patriots, learn about our government and our freedoms, and get encouraged, inspired and informed.
Jason Bearden Bio

Jason Bearden is a candidate for District 6 Manatee County Commissioner, the seat currently held by Carol Whitmore. An accomplished entrepreneur, national non-profit leader, speaker and Iraqi combat veteran, Jason served in the United States Marine Corps for over eight years and completed his service as a Marine Corps Scout Sniper Team Leader and Staff Sergeant (E-6). Jason also holds an Executive MBA from the University of South Florida.

Jason's father is a thirty year career Marine and his mother is an immigrant. Because of his parents' experiences and Jason's upbringing, he developed a profound appreciation for America, an unwavering belief in our founding principles and a dedication to serve that kindled in him. After leaving active duty, Jason started his family and found his permanent home in Florida where he has launched several successful businesses and collaborated with key individuals to start and foster a national Christian business organization.

Jason and his wife, Katie, are the proud parents of two children. Together, they serve their community with Jason holding the title of National Vice President and Local President of the Full Gospel Business Gatekeepers Organization and Katie holding an Advisory position at CareNet Manasota.

Jason's reach in Manatee county has rapidly grown alongside his and others' belief in putting God first and following the foundations our fore fathers established at the onset of our beautiful nation; he has the same concerns that any parent, father or business owner would have about the quality of our schools, our quality of life, and ensuring that our children and grandchildren enjoy the same freedoms we do in this country we love.

Jason believes the challenges we face today are not hard, but they do require leadership. He believes that making change requires taking responsibility when the responsibility is yours and anticipating a problem before it becomes a calamity. In the Marines these truths became his moral code and they're what he lives by today. He'll use these engrained truths to protect Manatee County because he's dedicated to doing what's RIGHT, not what's easy. It's the kind of Marine he was. It's the kind of commissioner he'll be.
From JBS
ACT NOW: With just a couple clicks, tell your US Representative and Senators to abolish OSHA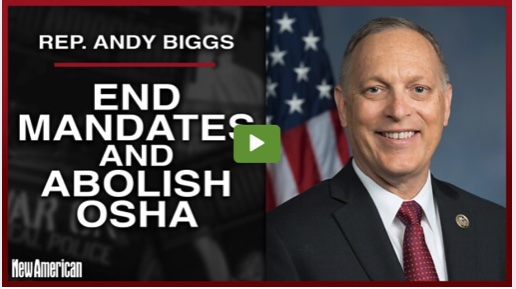 The Occupational Safety and Hazard Administration (OSHA) is an unconstitutional federal agency that is dangerously infringing upon Americans' individual, God-given freedoms. Congress must abolish it by enacting H.R. 5813.
H.R. 5813, titled the "Nullify Occupational Safety and Health Administration Act" or the "NOSHA Act," is sponsored by U.S. Representative Andy Biggs (R-Ariz.) and co-sponsored by seven other representatives. It is currently pending in the U.S. House Committee on Education and Labor.
H.R. 5813 is a simple bill, with the bill text being short and concise. If enacted, it would repeal the Occupational Safety and Health Act of 1970, which created OSHA, and abolish the federal agency.
…Not only is OSHA illegal, but it is part of the Deep State's plan to abolish individual freedom in the U.S.
…Accordingly, it is imperative that patriots stand up against this illegal and unaccountable agency. Not only should state legislatures constitutionally nullify OSHA, but Congress must enact H.R. 5813 to abolish it outright.
Tell your U.S. representative and senator to abolish OSHA and to oppose every other unconstitutional government agency or action.
Click on the link below to see the full article: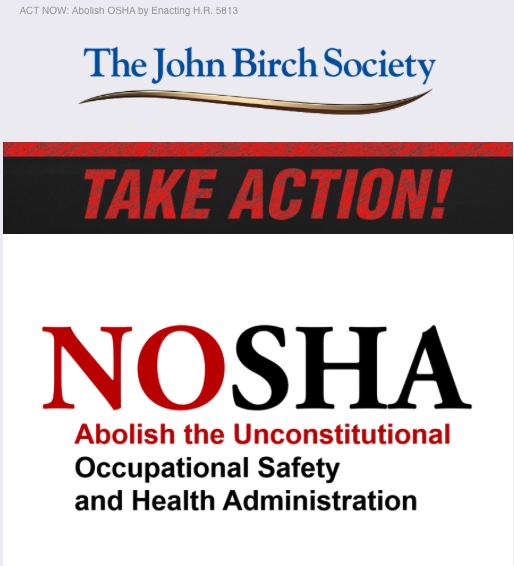 https://jbs.org/alert/nosha-abolish-osha-by-enacting-h-r-5813/
Participate in Lou Engel's Jesus Fast Starting March 7

From Lou Engel
In the past few months, we have experienced striking prophetic revelation concerning a global fast in 2022 as a major key in the coming fulfillment of prophecy, the destruction of the veil that covers Jerusalem and all nations (Isaiah 25:7), and a paving of the way for global harvest.
In the days ahead, I will roll out what I believe is a heavenly strategy for a 40-day Daniel fast from March 7th – April 15th, leading up to Passover/Good Friday and, in my context, The Send gathering on May 14th at Arrowhead Stadium.
Click below to register to receive daily devotionals
From Rich Owens, 40 Days for Life
Attend Sarasota's 40 Days for Life Spring Campaign Kick-off Wednesday, March 2 at 10:30 am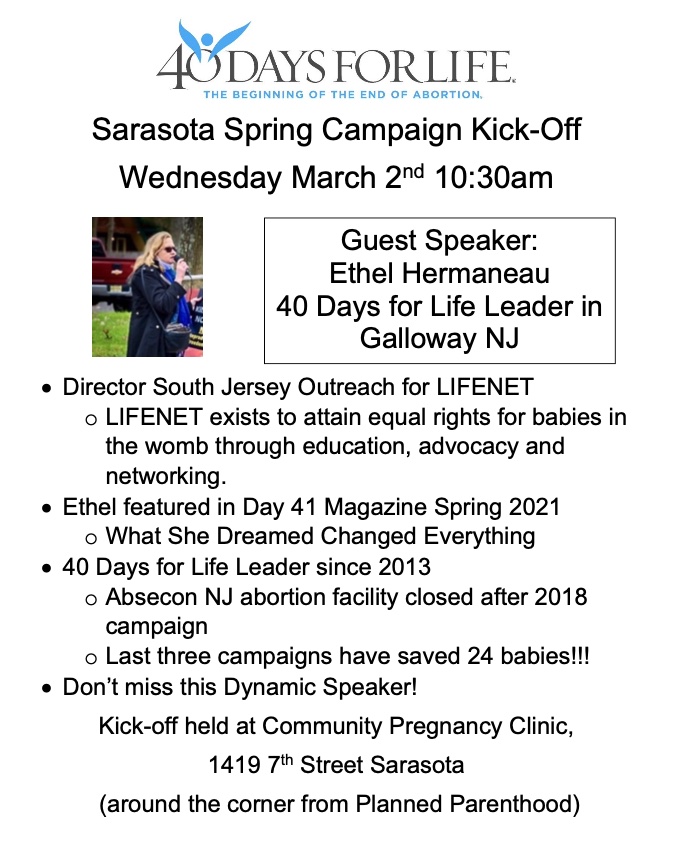 Did you know? When the original 40 Days for Life team in College Station, Texas, decided to open their first nationally coordinated vigils in 2007, that the Sarasota vigil was the very first to sign up out of the 89 cities in 33 states?
Twenty-five years later, they have reached 1,000 cities in 63 countries!!
In just 3 days, we will once more have the chance to come together, in prayer and public witness, to defend the most helpless among us, the unborn child in the womb. 40 Days for Life will launch its Spring Vigil on Ash Wednesday, March 2nd.
Since 2007, 20,729 babies have been saved during a 40 Days for Life Vigil, in addition to 229 abortion workers quitting their jobs, and best of all, 114 abortion facilities have closed. Our prayers and our fasting work. These vigils do save lives and they do make a difference in our communities. What can't be measured, is how many people have changed their hearts and minds about the utter evil of abortion because you and I were standing on the sidewalk with a sign and a prayer.
I'm praying that those of you who have participated before, and many more for the first time, will again place Sarasota high on the list with a commitment to forever close the Planned Parenthood that brings death and destruction to our community.
Our Sarasota 40 Days for Life Spring Campaign Kick-off event will be held Wednesday March 2 at 10:30 am at the Community Pregnancy Clinic 1419 7th Street Sarasota, around the corner from Planned Parenthood.
Our Guest Speaker is Ethel Hermaneau, the 40 Days for Life Leader in Galloway (outside of Atlantic City) NJ.
Don't miss this Dynamic Speaker! She has Holy Boldness!!
Hear Mark Young on the Justin American Radio Hour Wednesday, March 2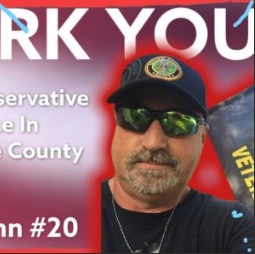 Mark Young, Longtime Local Newspaper and Online Journalist
Can We Trust the Media? An Insider Responds.
Don't miss the "thinking person's" conservative talk radio show, the Justin American Radio Hour. The show airs on AM 1490 Bradenton every Wednesday evening, from 8:05-9 pm Eastern time. You can also listen online at https://1490wwpr.com/listen-online-streaming/ and watch on Facebook Live, https://www.facebook.com/IamJustinAmerican/.
For this upcoming show on Wednesday, March 2nd, I welcome Mark Young, longtime local newspaper and online journalist. Mark has decades of experience "on the inside" of America's newsrooms, and we will explore the questions, "Can we trust the media?" Keep on supporting small businesses, and we'll see you on the airwaves!
An Informed Citizenry is the best weapon against tyranny!
Now more than ever, Conservatives need to be organized and informed. There still remains a number of Manatee Patriots subscribers missing vital information. So we are providing a link so that you can update your information in order for us to keep you informed on important issues, meetings, and events. To do so, simply click this link.

Check Out Our Latest Blog Posts!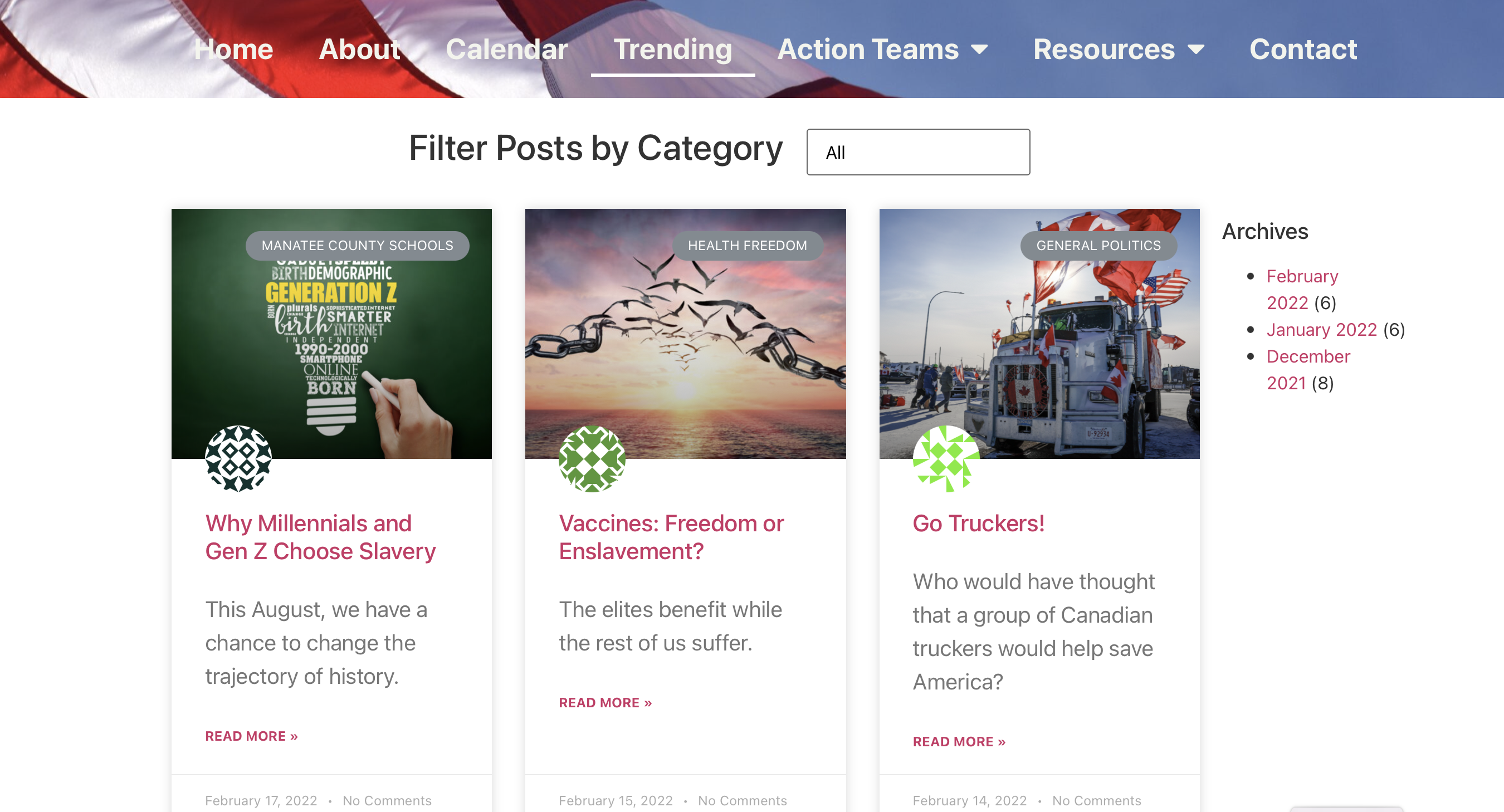 A number of new blogs posts have been added to the "Trending" page on our website. You can check them out by clicking this link: https://manateepatriots.us/trending-2/