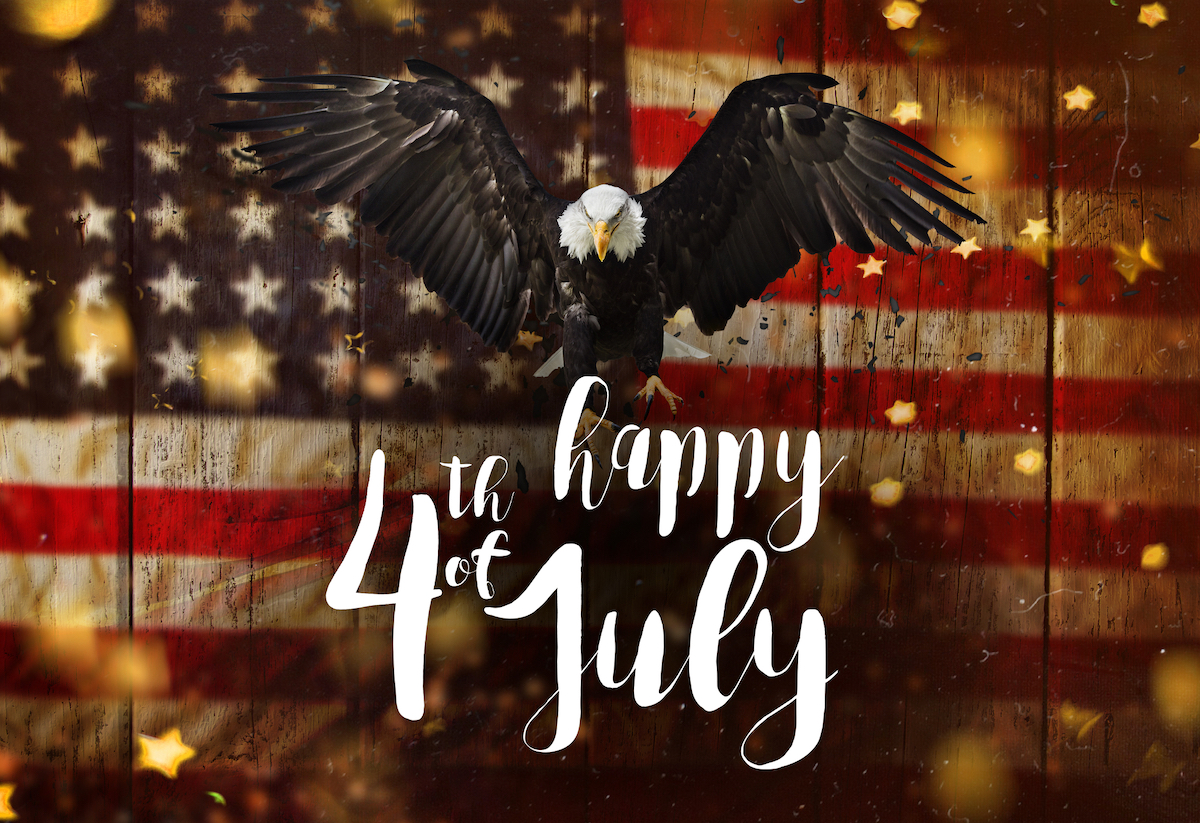 Our next meeting will feature the first of many Candidate Roundtable. The format of the forum is free form whereby attendees can ask questions of the candidates on any topic. All candidates were invited to attend so be prepared with your questions! So far the following candidates are confirmed:
Cindy Spray, Candidate for School Board District 2

Richard Tatum, Candidate for School Board District 5

Carol Ann Felts, Candidate, Manatee County Commissioner At Large



Read on to be informed about important events and simple actions you can take to make a difference.
In this Email
Candidate Rally July 16
Help Us Publish and Distribute the Christian Family Coalition Voter Guide This Election Season
"As Long As It Takes..."
Reminder: Poll Watcher Training Every Thursday Evening
Hear Martin Hyde on Justin American Radio Hour Wednesday, July 6.
Who: Candidate Roundtable
When: Tuesday July 5, 6 - 8pm
Where: Mixon's Fruit Farms
2525 27th Street East
Bradenton, FL 34208
Questions? Contact Manatee Patriots at 941-301-4636 or Email: info@manateepatriots.us
Forward this newsletter to a friend!
Our meetings are free, informal and fun, and you can enjoy our free light refreshments at our snack bar. Plus you'll meet like-minded patriots, learn about our government and our freedoms, and get encouraged, inspired and informed.
Candidate Rally July 16
Exciting news! The Republican Party of Manatee and Sarasota Counties are holding a joint Candidate Rally on Saturday, July 16. It will be held at Robarts Arena on Fruitville Road in Sarasota.
Over 2000+ attendees are expected at this event which will be great exposure for candidates and a terrific forum for people to come and have their questions questions answered directly by the candidates. Senator Marco Rubio will be in attendance, possibly Governor Ron DeSantis as well as others running for State positions in addition to local Manatee and Sarasota Counties Candidates. Doors will open at 10am and the program will begin at 11:30. Mike Gallagher will be broadcasting and will also be conducting interviews from noon-2pm, Trump Media with Truth Social will have a booth and much more. Yoders will be giving out pieces of pie and Gecko's will have food available.
At 11:30 the program and speeches will begin, Kirk Hoffman will give the pledge, Rev. Wilson will give the prayer and Peter Solinski will sing the National Anthem. There will be handicap seating in the front and no backpacks or umbrellas will be permitted.
So mark your calendars, and be sure to come out and see what democracy looks like!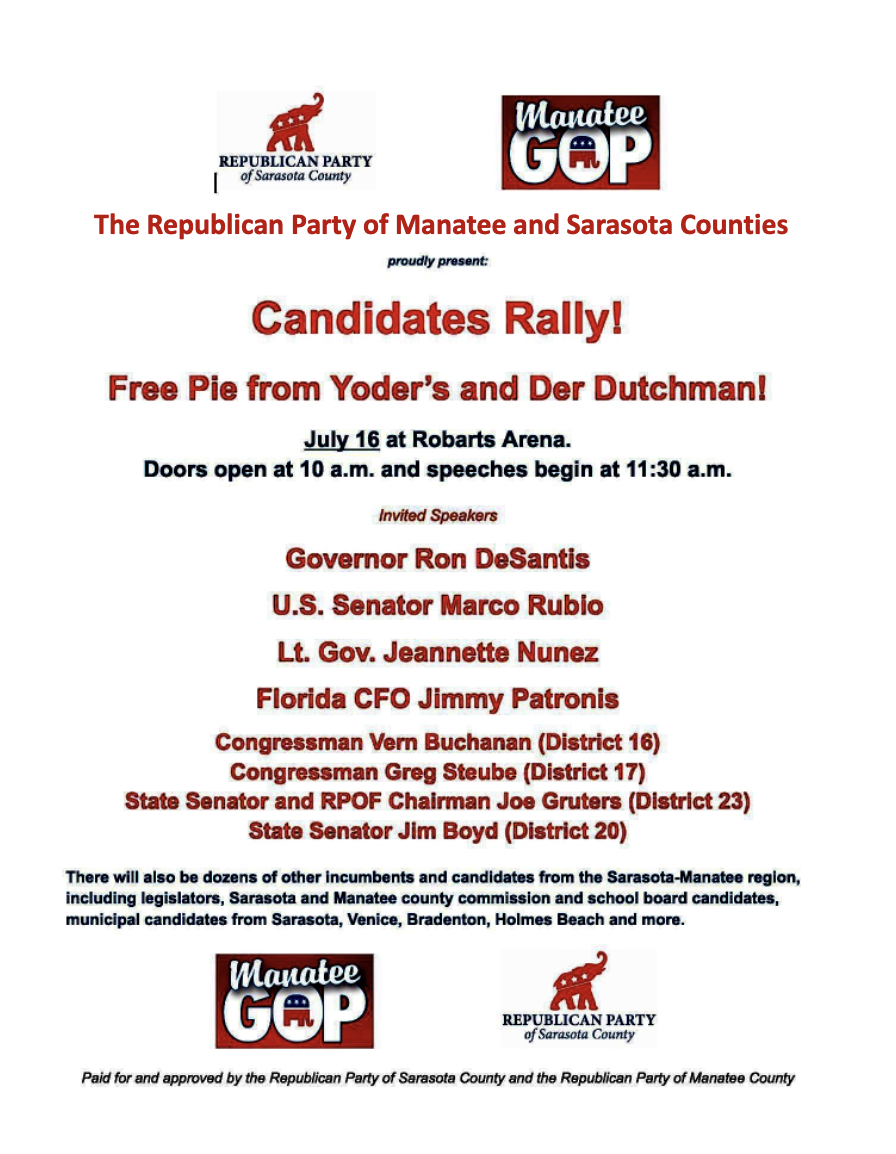 From April Allison Culbreath
Help Us Publish and Distribute the Christian Family Coalition Voter Guide This Election Season

Christian Family Coalition (CFC) is a non-profit faith based organization that wants to make every effort to help faith based candidates get elected at the county, state and federal levels. In Manatee County the CFC Candidate Interview Panel interviewed every willing candidate that will appear on the Manatee ballot. The following candidates received a HIGHLY QUALIFIED rating:
Rep. Michael Beltran State Rep. D70
Rep. Tommy Gregory State Rep. D72
Sen. Jim Boyd State Senate D20
Amanda Ballard Manatee BOCC D2
Mike Rahn Manatee BOCC D4
Jason Bearden Manatee BOCC D6 At-Large
Cindy Spray Manatee School Board D2
Chad Choate Manatee School Board D4
Richard Tatem Manatee School Board D5
A donation for the CFC voter guide printing fees could be considered as supporting each of these fantastic Patriot candidates at once.
My goal is to be able to provide about 140 Manatee County churches with 100 voter guides each. That's 14,000 voter guides and it's expensive.

If you'd like to make a donation to help CFC Manatee pay for guides to be printed, make a check payable to Alliance Print Services. Cash is acceptable as well and I will provide a receipt. The goal is $4500. I can pick donations up at the Manatee Patriots (formerly Manatee Tea Party) meeting, next Tuesday 5:45PM located at 2525 27th Street East, Bradenton, FL 34208.

My goal is to be able to provide about 140 Manatee County churches with 100 voter guides each. That's 14,000 voter guides and it's expensive.
I will also need help distributing guides to the 140 churches. I can provide literature to give the church Pastors and a brief training on how to present the guides to the Pastors. Even if you can only commit to delivering guides to YOUR own church, that would be a great help. Especially since you likely already have a rapport with your Pastor.
-April
from the Heartland Institute
"As Long As It Takes..."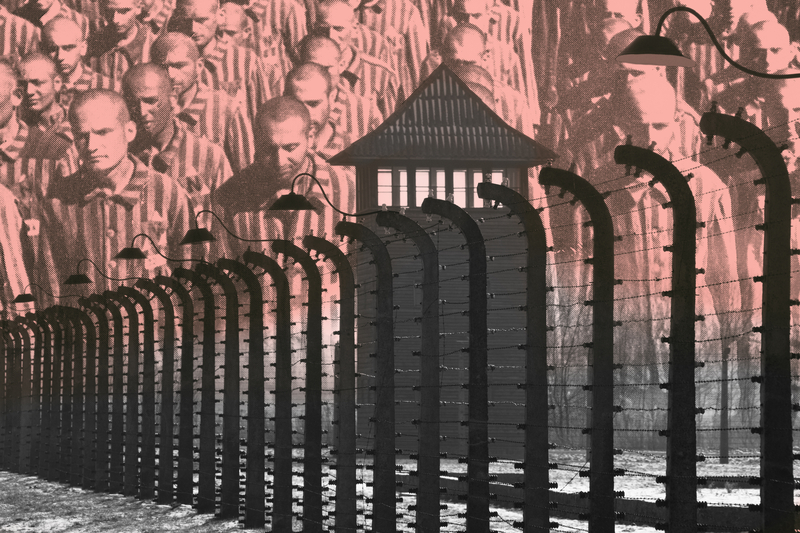 "Supreme Court Ruling Limiting EPA's Power to Regulate Carbon Dioxide Emissions Is Good for the Nation," Says The Heartland Institute. "The Supreme Court ruled definitively that EPA cannot subvert our democracy and assert restrictive powers that were never given to it by Congress. This is a huge win for our vibrant democracy."
Make no mistake, the FDA, lies and uses the Precautionary Principal. The EPA lies and used the Precautionary Principal to rule under the Democrat Clean Air agenda. The IPCC (Intergovernmental Panel on Climate Change) lies and uses the precautionary principal. All alphabet agencies use the precautionary principal. So what is the Precautionary Principal? Computer models are use to bring up the worst case scenario. Once established the Globalists give grants to scientists to support the findings that the democrat regime desires. We, the People, are then forced into living like the worst case has happened. There is never a consideration that their policies will make the worst case happen. They don't care. We suffer and they don't care.
Biden put America in the middle of the Ukraine-Russia conflict because he knew what would happen to gas prices once he shut the American pipe lines. he had to find a scapegoat. He doesn't care and even said so at a press conference.
"As Long As It Takes": Biden Does Not Care Too Much About Gas Prices https://marypatriotnews.com/2022/07/01/as-long-as-it-takes-biden-does-not-care-too-much-about-gas-prices-video/
Reminder: Poll Watcher Training Every Thursday Evening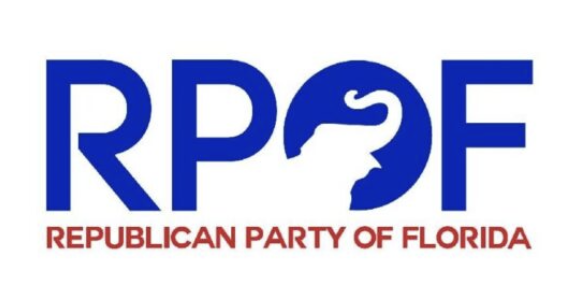 The Republican Party of Florida, in association with the Republican National Committee, is offering
free training
on how to become a credentialed
Poll Watcher
. The sessions are delivered via
Zoom Meeting
and are entirely free of charge. Training begins at
5pm on Thursday
evenings
and runs about an hour. This crucial training delivered by an RPOF Election Attorney and is a no-nonsense session of Do's and Dont's. To learn more about these sessions and to sign up to be a Poll Watcher volunteer with the Republican Party this election season, simply click on the button below:
Hear Martin Hyde on the Justin American Radio Hour, Wednesday, July 6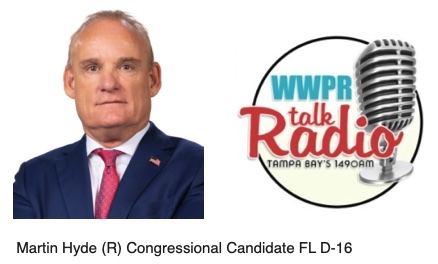 Don't miss the "thinking person's" conservative talk radio show, the Justin American Radio Hour. The show airs on AM 1490 Bradenton every Wednesday evening, from 8:05-9 pm Eastern time. You can also listen online at https://1490wwpr.com/listen-online-streaming/ and watch on Facebook Live, https://www.facebook.com/IamJustinAmerican/.
For this upcoming show on Wednesday, July 6th, I welcome back Martin Hyde (R), Congressional Candidate FL D-16. Martin has decided to move forward with his campaign despite some difficult circumstances, and we will discuss those circumstances as well as other topics of national importance. Keep on supporting small businesses, and we'll see you on the airwaves!

And don't forget to check out the latest Posts on the Manatee Patriots website!
Several topics are covered including Roe v Wade, 2A Rights, Manatee County Schools and more. Click on the image below to go to the "Trending" page now.

An Informed Citizenry is the best weapon against tyranny!
Now more than ever, Conservatives need to be organized and informed. There still remains a number of Manatee Patriots subscribers missing vital information. So we are providing a link so that you can update your information in order for us to keep you informed on important issues, meetings, and events. To do so, simply click this link.