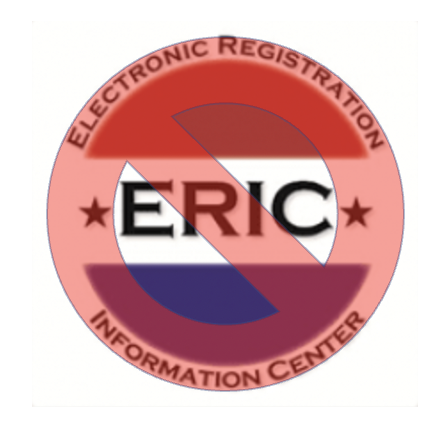 There is perhaps a greater threat to the integrity of Florida elections than the Dominion Voting machines. What appears to be a benign system to help states better maintain voter registration information actually has sinister roots. Our own Jim Pesnichak will explain the origin of this system, it's potential impact on our elections and what we can do about it at our next Manatee Patriots meeting.
"Brother, can you spare 5 bucks a week?"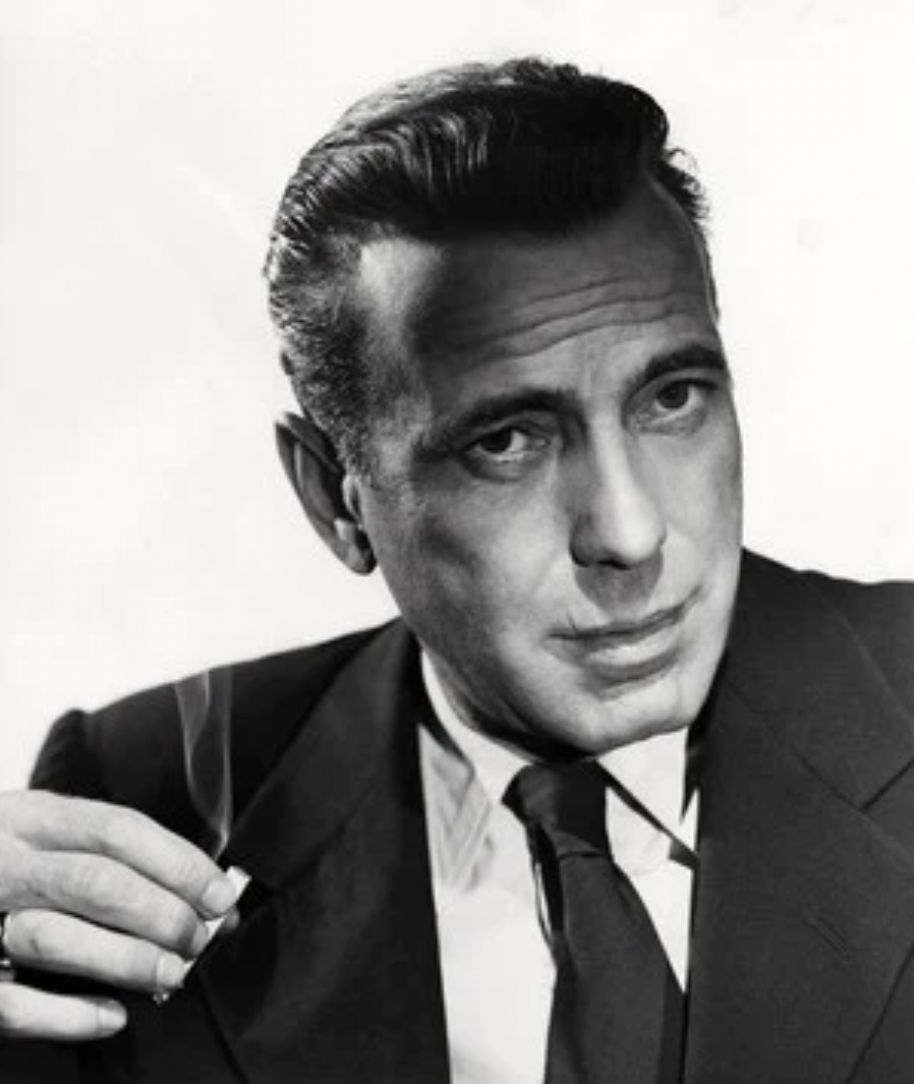 Few people doubt that there is no better place to be on a Tuesday night than at
Mixon Farms for a Manatee Patriots meeting. Rubbing elbows with like-minded people, a fantastic lineup of premier conservative speakers and some of the best home cooking around makes our meetings something to cherish. But sadly, as in every other aspect in life, there is nothing like a free lunch, well in this case, dinner. We have weekly expenses that cover AC (we really need it now!), lighting as well as exhorbitant rates for IT support! So we are asking you to please consider giving generously every week. Even $5 a week would go a long way towards defraying some of these costs. For your convenience we have cleverly deployed a tea pot (a "Patriot Pot") on each table. So come, enjoy the meeting, let your Patriotism shine and give what you can...even if it's only 5 bucks!
Read on to be informed about important events and simple actions you can take to make a difference.
In this Email
Jim Pesnichak Bio
It's Next Week! 3-County Candidate Rally July 16 at Robarts Arena
Logic and Accuracy Training Tomorrow Night July 11 at 7pm
"Who Ya' Gonna Call?"
Sign Petition to Disney: My family won't watch your LGBTQ+ films
Reminder: Poll Watcher Training Now Offered 4 Nights Per Week!
Hear Michael Sabga on the Justin American Radio Hour Wednesday July 13
2 Great Events from the Manatee County Republican Liberty Caucus
Jim Pesnichak Bio
Jim received a bachelor's degree in Electrical Engineering from Capitol Institute of Technology and his MBA in Information Systems at Eastern Michigan University.
He began his career as an electrical engineer with LKB and Finnegan instruments in Washington DC as the Mid Atlantic Service Manager, implementing clinical and laboratory scientific instrumentation .
Jim moved to EDS / General Motors (1979 – 81) as an information systems analyst at the General Motors Assembly Division at theGM Technical Center in Warren Michigan and promoted to the EDS Account Manager at the Buick City assembly plant in Flint Michigan.
He was then identified as a critical employee in a $1.3 B Bethlehem Steel account (1982-85) and promoted to the Regional Manager.Jim assumed responsibilities of all information systems, IT planning, integration, Business Process Reengineering and the management of all plant computing systems at the Burns Harbor plant and the "Flagship" for Bethlehem Steel in Indiana.
Jim was then promoted to the China EDS Country Director (1986-2000) in support of the General Motors in China, Hong Kong and Taiwan. Responsibilities included EDS' sales, (for first GM assembly plant in China) technical business development and service delivery duties for GM and Delphi in the Peoples Republic of China. for the first GM Assembly Centre in Shanghai.
Pesnichak repatriated from China and was promoted to the EDS Client Executive at the GM account for North America. In this role he was responsible for management of the Information System operations at 24 Car, Truck and Saturn operations in Canada, Mexico and the US.
Jim then went on to take an international assignment as the Client Executive role for Nokia and Sony Mobile in the HP Telecom sector responsible for North and South America operations.
Jim has always been active in community activities as he was a member of the US China Chamber of Commerce and participated in addressing congress in the Washington "Door Knock". In this activity he engaged US Senators and Congressmen in behalf of the Chinabusiness community. He was a member of the Board of Directors for the United Way, and chaired numerous charity activities including the Habitat for Humanity and Christmas in April projects.
It's Next Week! 3-County Candidate Rally July 16 at Robarts Arena
The Republican Party of Manatee and Sarasota Counties are holding a joint Candidate Rally on Saturday, July 16. It will be held at Robarts Arena on Fruitville Road in Sarasota and include candidates from 3 counties.

Over 2000+ attendees are expected at this event which will be great exposure for candidates and a terrific forum for people to come and have their questions questions answered directly by the candidates. Senator Marco Rubio will be in attendance, possibly Governor Ron DeSantis as well as others running for State positions in addition to local Manatee and Sarasota Counties Candidates.
Doors will open at 10am and the program will begin at 11:30. Mike Gallagher will be broadcasting and will also be conducting interviews from noon-2pm, Trump Media with Truth Social will have a booth and much more. Yoders will be giving out pieces of pie and Gecko's will have food available.
At 11:30 the program and speeches will begin, Kirk Hoffman will give the pledge, Rev. Wilson will give the prayer and Peter Solinski will sing the National Anthem. There will be handicap seating in the front and no backpacks or umbrellas will be permitted.
So mark your calendars, and be sure to come out and see what democracy looks like!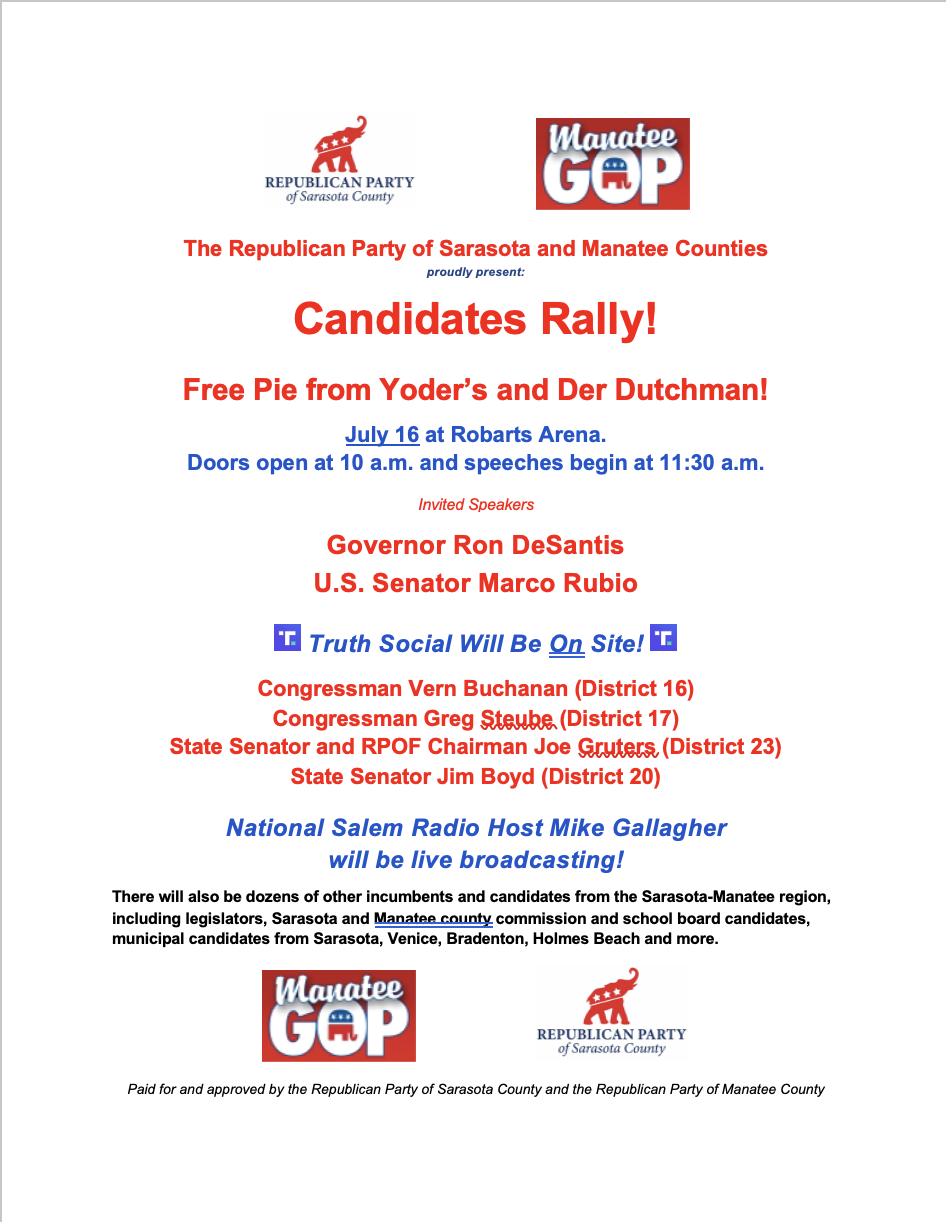 Logic and Accuracy Training Tomorrow Night, July 11 at 7pm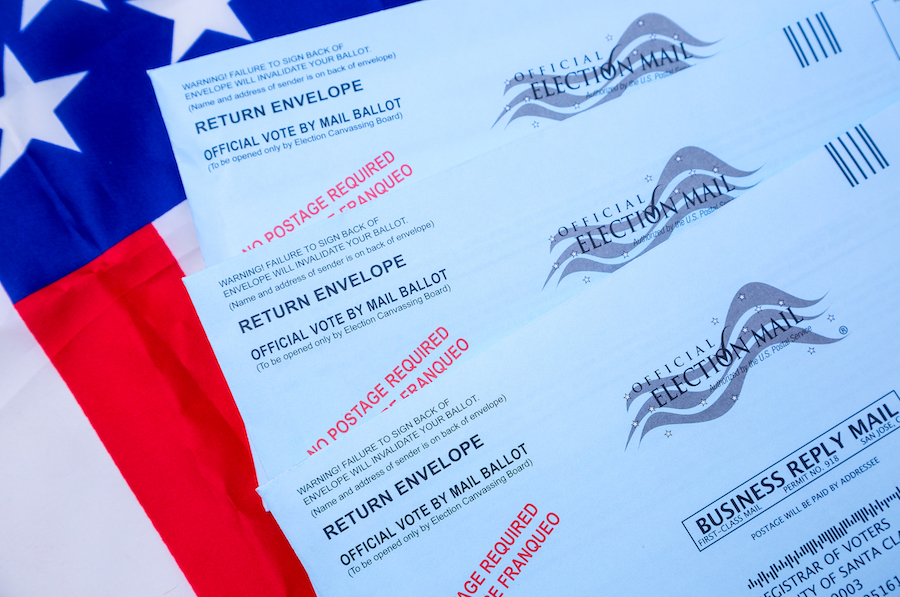 Our friends at Florida Fair Elections (FFE) has arranged training on election machine Logic and Accuracy training tomorrow night at 7pm. Lynn Taylor and the Virginia Fair Elections Coalition will be providing online training via Zoom meeting. To sign up for this important training, please use the following link:
https://us02web.zoom.us/meeting/register/tZApd-qhpzIsG9JvhqhVf4m51Aqa3OMp66za

"Who Ya' Gonna Call?"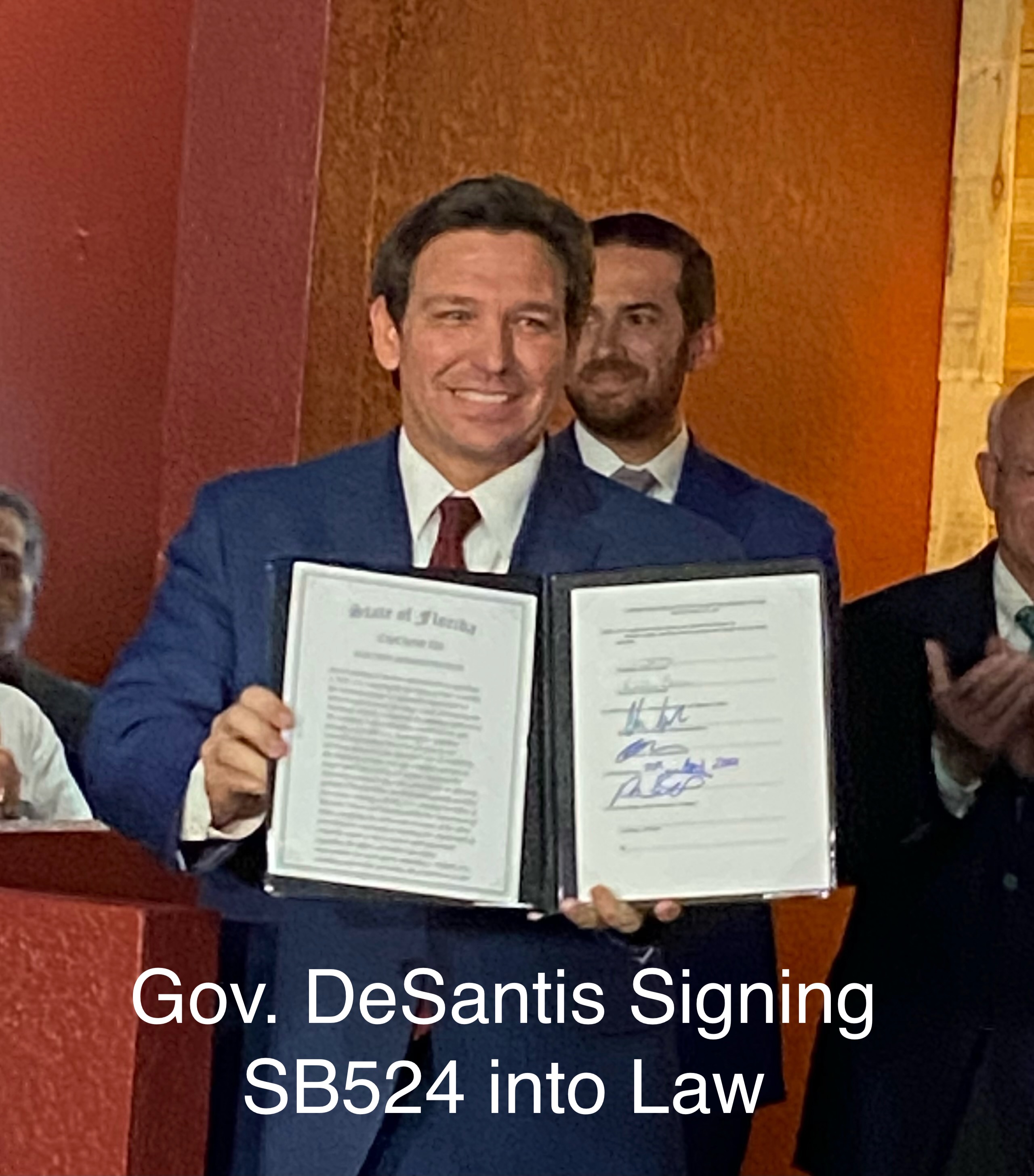 One of the hallmarks of this past Florida legislative session were key election integrity bills: HB7061 and SB524. A key provision of these bills was the establishment of a the Office of Election Crimes and Security, housed within the Florida Department of State. This will enable Florida Law Enforcement personnel to pursue and arrest individuals involved in committing felonies pertaining to our election laws.
Recently, Governor Ron DeSantis announced the appointment of Peter Antonacci as Director of the Office of Election Crimes and Security. Mr. Antonacci has had an extensive career in public service, including experience in election security as a Deputy Attorney General, Statewide Prosecutor, and Broward County Supervisor of Elections. With a powerful election integrity advocate in charge, we are hopeful that an added layer of security has been added to our upcoming elections. To read the full announcement, just click on the button below. Thanks to Michelle Martin for bringing this important news to our attention.

Excerpt from CitizenGo
Sign Petition to Disney: My family won't watch your LGBTQ+ films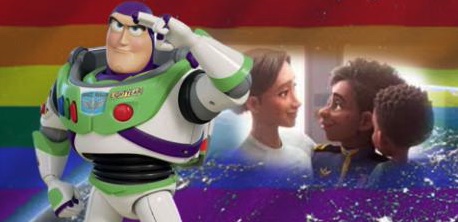 To: Bob Chapek, Disney's CEO
My family won't watch your films nor buy your products designed to promote LGBTQ+ indoctrination and to corrupt children's innocence.
The bombshell testimony by Disney Executives and the lesbian kiss in the Lightyear movie confirmed what many of us have known for a long time: Disney, today, is a hostage of the LGBTQ+ activists committed to corrupting our children through indoctrination.
They don't care about making our children's dreams real, as long as Bob Chapek (the CEO) and his team are making money. But we have the power to change that.
Disney cares about the income coming from its films and products… And, in reality, Disney's movie 'Lightyear' flopped in its first weekend in theaters, earning $51.7 million in the US, far from the 120 million of Toy Story 4 and the 110 million of Toy Story 3. Furthermore, revenue from its second weekend dropped by 65% (another new low).
We, you and me, plus thousands of parents around the world, are winning the battle CitizenGO began against Disney three years ago: over the course of just a year, Disney stock has plummeted nearly 50 percent as their political-infused productions continue to turn away audiences and garner angry fan reactions.
Disney's executives are panicking and that's why we need your help to push forward NOW against the company. Imagine how much power we will have if we send a massive pledge to Disney's CEO, committing not to watch any Disney movies or shows or buy any product that promotes gender ideology.
Sign the pledge and tell Disney's CEO to stop polluting children with LGBTQ+ indoctrination, and join the campaign today.
Sign the pledge NOW addressed to Bob Chapek, Disney's CEO: my family won't watch your films nor buy your products designed to promote LGBTQ+ indoctrination and to corrupt children's innocence.
…Please join to send Disney a message it can't ignore.
Click button below to sign the pledge and see the full message.
Hear Michael Sabga from JBS on the Justin American Radio Hour Wednesday, July 13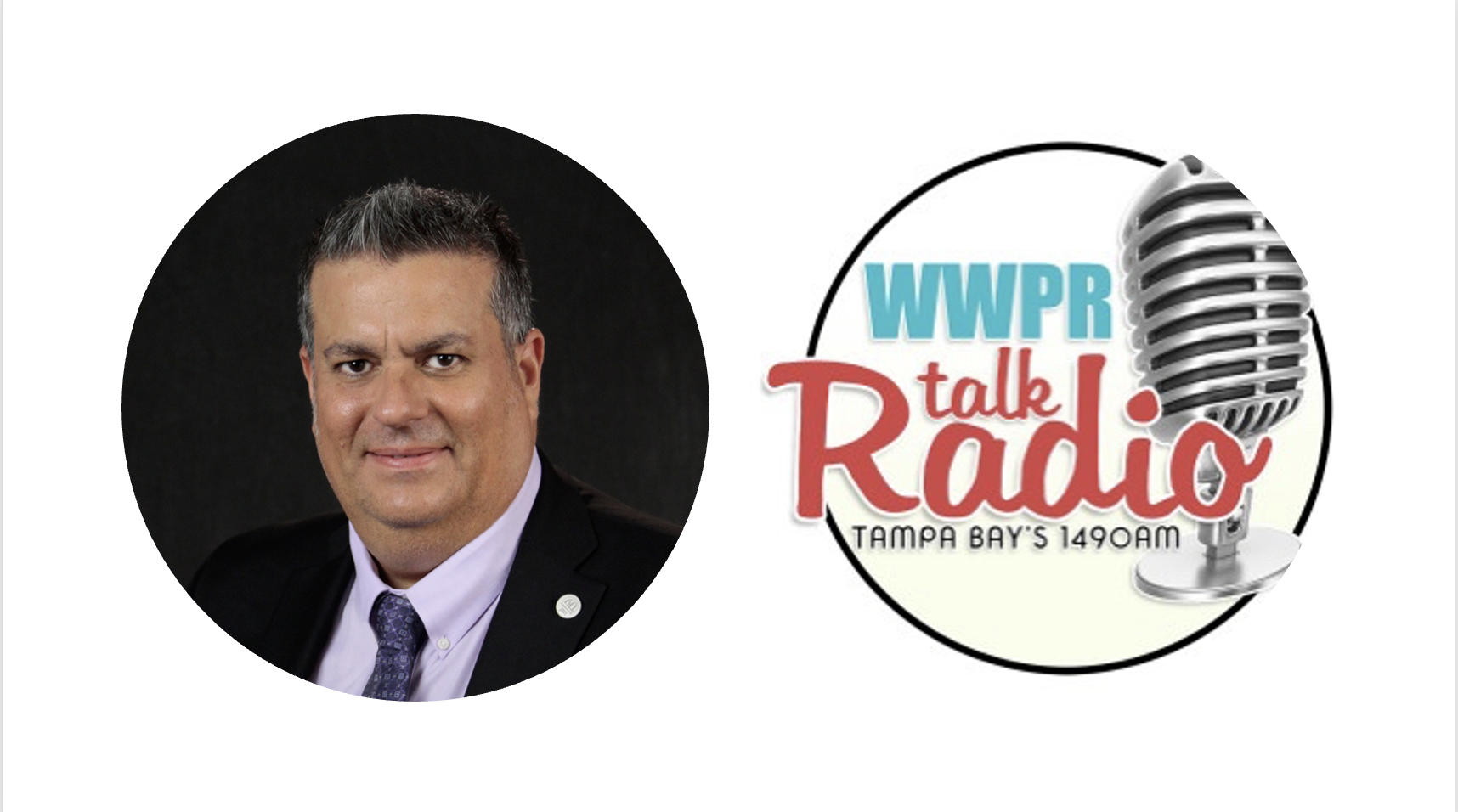 Don't miss the "thinking person's" conservative talk radio show, the Justin American Radio Hour. The show airs on AM 1490 Bradenton every Wednesday evening, from 8:05-9 pm Eastern time. You can also listen online at https://1490wwpr.com/listen-online-streaming/ and watch on Facebook Live, https://www.facebook.com/IamJustinAmerican/. For this upcoming show on Wednesday, July 13th, I welcome Michael Sagba, the FL Field Coordinator for the John Birch Society. Michael is a dynamic speaker who travels around the state of Florida promoting the time-honored American values of God, the family, and the Constitution. he is truly a foot soldier in the fight for freedom that all patriots must engage in at this critical time in American history. Tune in to see how you can strengthen your efforts in the patriotic fight for the soul of America! Keep on supporting patriotic small businesses and local media, and we'll see you on the airwaves!

Reminder: Poll Watcher Training Now Offered 4 Nights Per Week!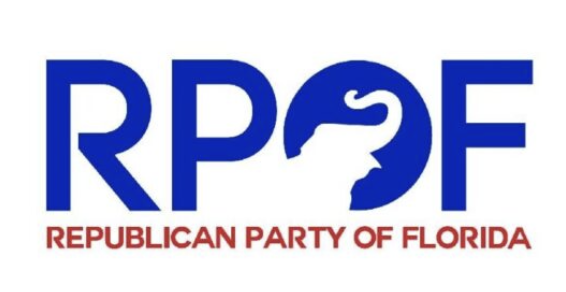 The Republican Party of Florida, in association with the Republican National Committee, is offering
free training
on how to become a credentialed
Poll Watcher
. The sessions are delivered via
Zoom Meeting
and are entirely free of charge. Training begins at
5pm on Tuesday, Wednesday, Thursday and Saturdays
evenings
and runs about an hour. This crucial training delivered by an RPOF Election Attorney and is a no-nonsense session of Do's and Dont's. To learn more about these sessions and to sign up to be a Poll Watcher volunteer with the Republican Party this election season, simply click on the button below:
2 Great Events from the Manatee County Republican Liberty Caucus
Our friend Kevin Wright informs us that there 2 upcoming events you don't want to miss. Check out the flyers below and mark your calendars!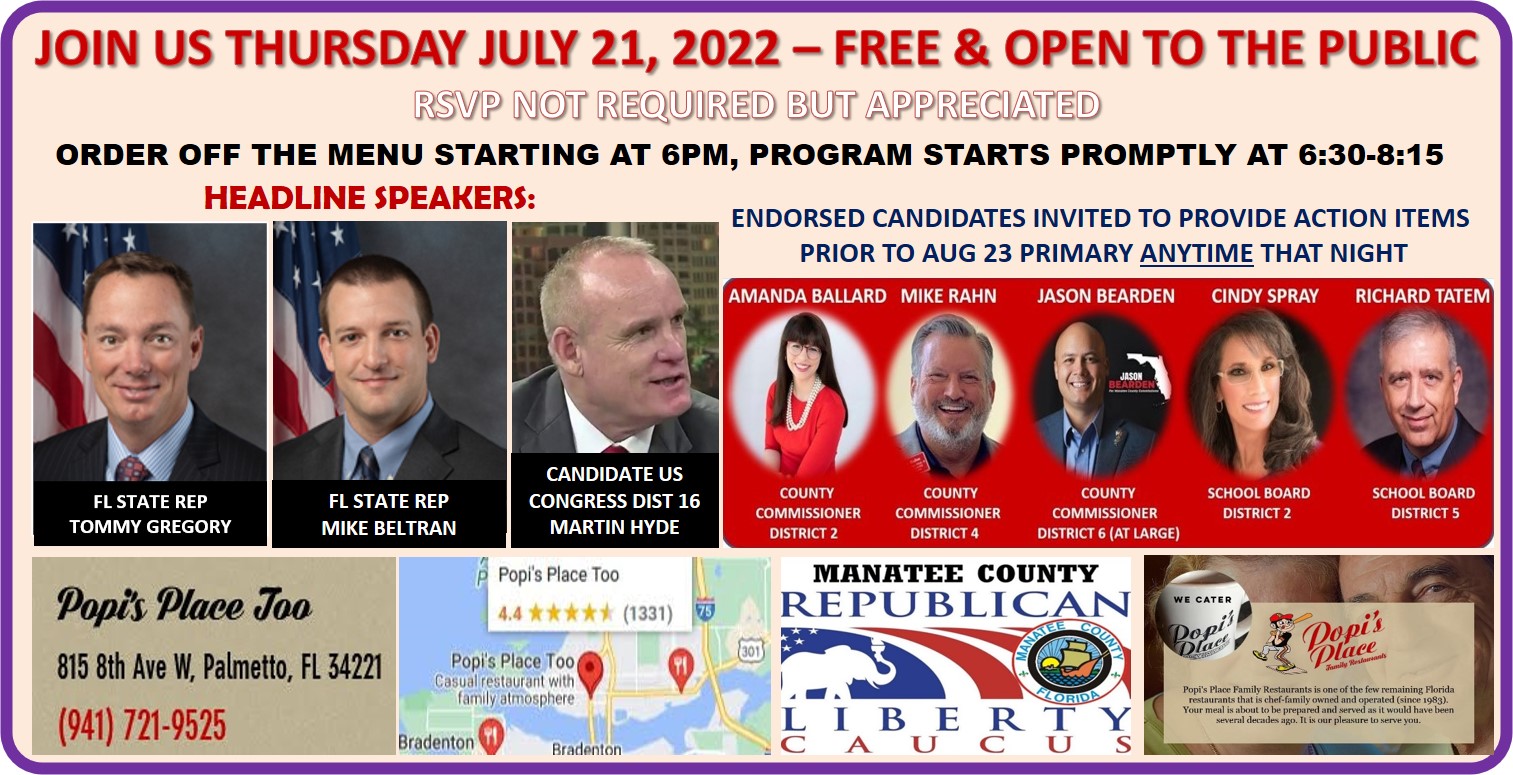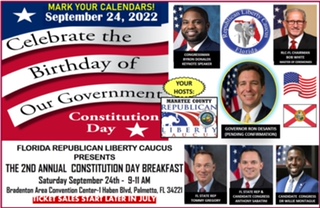 An Informed Citizenry is the best weapon against Tyranny!
Now more than ever, Conservatives need to be organized and informed. There still remains a number of Manatee Patriots subscribers missing vital information. So we are providing a link so that you can update your information in order for us to keep you informed on important issues, meetings, and events. To do so, simply click this link.