It's a can't-miss combo: Manatee Patriots' famous potluck PLUS Action Team Night! On this special night you will have extra time in your Action Team—time to get your questions answered and get projects done. And did we mention it's a potluck event?!

Bring your favorite dish to share and be in on the food, fun—and the action. See you at Manatee Patriots Tuesday, May 31 at 6 pm at Mixon's Fruit Farms.
"Reports of his death have been greatly exaggerated". Click on the image above to watch the video of District 16 Congressional candidate Martin Hyde speaking to Manatee Patriots Tuesday May 24. Also. thanks to Kevin Wright for also sharing Martin's video on the Manatee County Republican Liberty Caucus Facebook Group page.
Also, check out his website at MartinHyde.us for info, how to support and more.

Read on to be informed about important events and simple actions you can take to make a difference.
In this Email

From Defend Florida: Register NOW For Summit on Media Manipulation, Saturday June 4 at 5 pm; AND buy "Protect Your Election" E-Book
Take Action Now to Stop Biden's Sellout to WHO
From Atty John Stemberger—Thinking Clearly After Roe: A five-part strategy moving forward
Remember—Date Change: 'The Good, Bad and the Ugly' MCRLC Meeting Now June 23
Take Advantage of Early Registration Discount! Register for FACL June 25 Event
What: Manatee Patriots Action Team Night
When: Tuesday, May 31, 6 - 8 pm
Where: Mixon's Fruit Farms
2525 27th St. E.
Bradenton, FL 34208
Questions? Contact Manatee Patriots at 941-301-4636 or Email: info@manateepatriots.us
Forward this newsletter to a friend!
Our meetings are free, informal and fun. Plus you'll meet like-minded patriots, learn about our government and our freedoms, and get encouraged, inspired and informed.
From Defend Our Union
Register NOW for a Summit on Media Manipulation, Saturday June 4 at 6 pm
Have you had enough about the lies and woke propaganda? Then join us

at the National Virtual Summit on Defending Your Voice from Media Messaging and Manipulation.
Featuring: Dinesh D'Souza (2000 Mules), Catherine Engelbrecht (True The Vote), Mike Lindell(Franks Speech & My Pillow), Clay Clark (Re-Awaken America Tour), Mel K (Mel K Show), Leigh Dundas (Attorney & Activist) + many more!

The goal is to inform ordinary citizens how to identify and counteract the woke propaganda. Attending the summit will equip you to be effective in communicating TRUTH within your relationship circles (family, colleagues, and friends).
To counteract the Disney, CNN, Soros and Big Tech's massive lying machine we must collectively speak with accuracy and knowledge. The information presented at the summit provides you the training and know-how to be an effective communicator. On June 4th we will gather the best experts in the world so you can participate the information war to retake our country.
What's more, access to this important summit is FREE.

To learn more. go to https://defendourunion.org or click on the image below to register now.
Also from Defend Our Union
Buy the new Blockbuster ebook: "8 Ways to Protect Your Next Election"
Read the inside story, the struggles with legislators, the press conference saga and the hit piece by CNN and NBC. Learn how a group of ordinary people aspired to accomplish the impossible and in the process, made election integrity history.

Excerpt from Defend Florida and Align Act
Take Action Now to Stop Biden's Sellout to WHO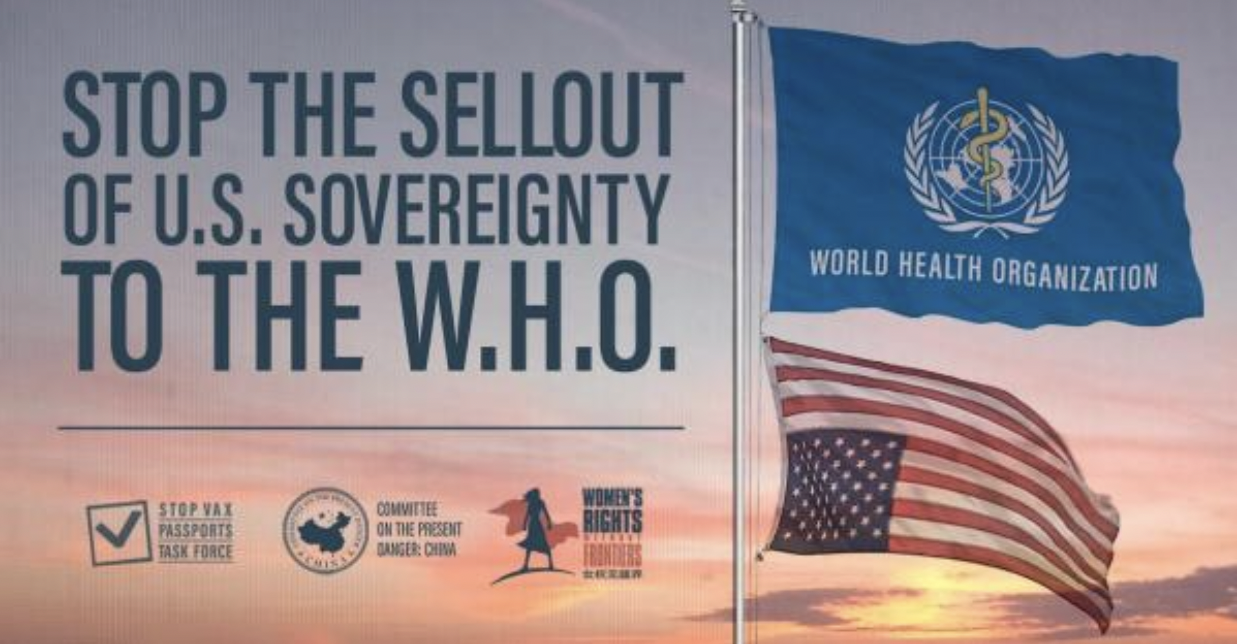 "It is appalling that the Biden administration has actually initiated the greatest voluntary surrender of our national sovereignty since our Republic was founded.
"As things stand now, at a meeting of the World Health Assembly in Geneva, Switzerland between the 22nd and 28th of May, U.S.-proposed amendments will be adopted that would make the Director-General of the WHO the sole arbiter of what is a "public health emergency of international concern" and dictate how our government and others must respond to it.
"…The attempt to slip this surrender of sovereignty through quietly as a series of amendments to the current International Health Regulations constitutes an attempt to subvert the treaty process, thus performing an end-run around our legislature and the legislatures of the world.
"Take action NOW to preserve our national sovereignty!"
Click on the button below to Take Action Now!
From John Stemberger, Florida Family Policy Council
Thinking Clearly After Roe: A five-part strategy moving forward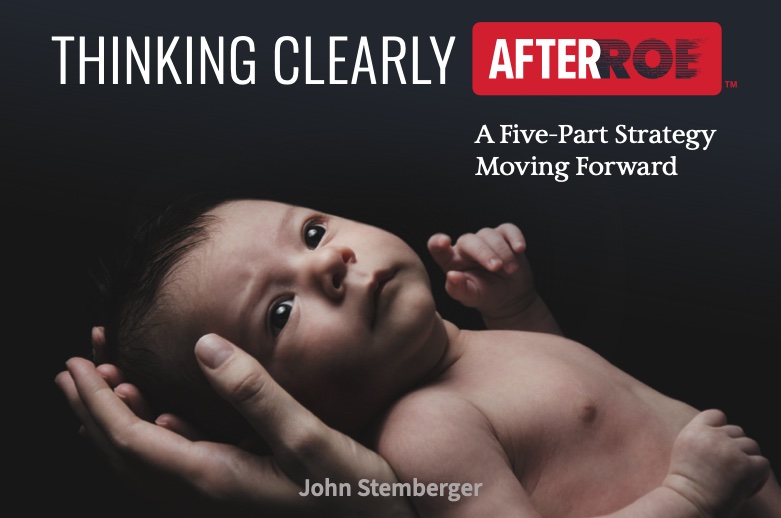 Yesterday, the Heritage Foundation's online news organization, The Daily Signal, published an article I wrote and have been working on for several months. It is entitled "Thinking Clearly After Roe: A Five Part Strategy Moving Forward." John Stonestreet said it was "the best, most comprehensive look forward" he has seen yet. The Family Policy Alliance played a key role in assisting me with producing this plan and is part of their website and campaign www.AfterRoe.com.
This is the moment many of us have been working for our entire lives. But we must realize that this is not the end of the battle, but it is simply the beginning.
This article is an imperfect battle plan of love, service, and national strategy on how to move forward is a post-Roe world. This is plan on how to create a world where we love children and not kill them. A plan on how to create a society that looks back on the practice of abortion like we look back on slavery, with shame and disgust.
You can download the full article in a printable PDF form here:
https://www.flfamily.org/wp-content/uploads/AfterRoe_5-Part-Strategy_Sheets_Print-Ready.pdf
Would you help me by reading this article and getting this resource into the hands of pro-life supporters everywhere around the country?
Thank you for your support. Together, we will end abortion in America and create a culture of life and love for women and their children.
Sincerely,
John Stemberger
President
Florida Family Policy Council
Remember—Date Change: 'The Good, Bad and the Ugly' MCRLC Meeting Now June 23
Click on the image below to register now!
Take Advantage of Early Registration Discount! Register for the FACL June 25 Event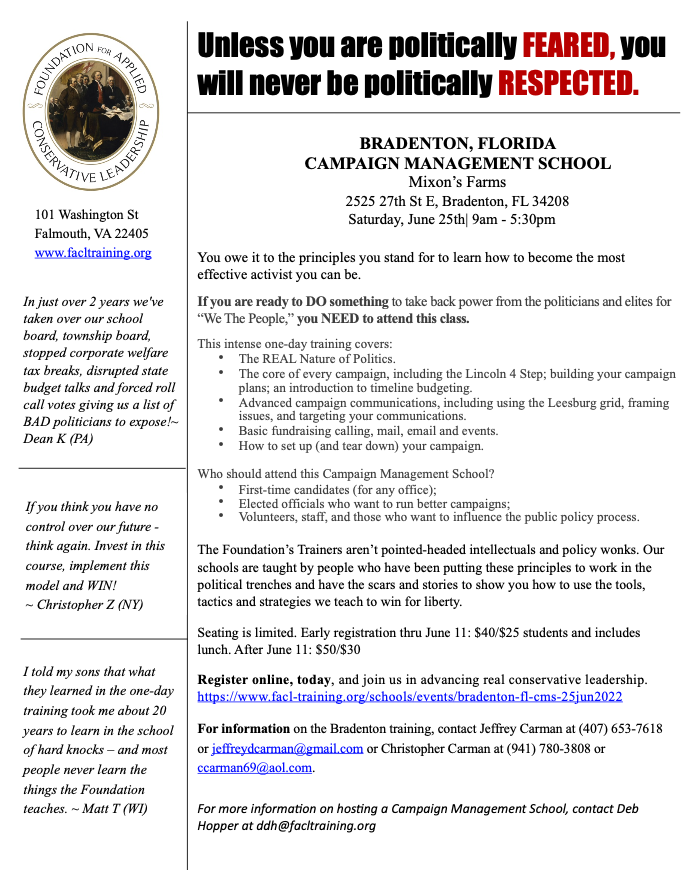 An Informed Citizenry is the best weapon against tyranny!
Now more than ever, Conservatives need to be organized and informed. There still remains a number of Manatee Patriots subscribers missing vital information. So we are providing a link so that you can update your information in order for us to keep you informed on important issues, meetings, and events. To do so, simply click this link.