From Defend Florida:
ACTION ALERT! Call One Day—New opportunity Each Week to get involved and expand our impact!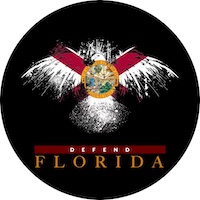 Here is a new initiative by Defend Florida that will give everyone a chance to participate in our fight for freedom.
Hi, my name is Debbie Faris and I'm with Defend Florida.
I am spearheading the Call One Day initiative (see below) and I'm reaching out to ask for your direct involvement. (it's easy but important). Thank you so much beforehand for your time and support, I look forward to your response.
One Call = 100 Voices #5 April 11-16:
We continue to voice our opinion to Disney. Let them know you are upset:
Contact: guestservices@Disneyworld.com or 407 824 2222
My name is _____ and I am calling to register a complaint. As a Floridian, I am appalled at Disney's stand against Governor DeSantis. The bill he signed is not anti-gay, its all about parental rights. I am opposed to any agenda or curriculum that seeks to groom grade school children or sexualize them.
Disney's stance speaks volumes so I am discouraging my family and friends from engaging with a company that is contrary to our morals and values. Your company is showing contempt towards the traditional family and I don't appreciate the insertion of a woke agenda into the movies and other products. Thank you for taking note and I am so sorry your workplace is no longer the happiest place on earth.
GovernorRon.Desantis@eog.myflorida.com 850-717-9337
Hi Governor DeSantis, my name is _____ and I'm with Defend Florida.
I'm calling to thank you for signing HB 1557. I know this bill was about our parental rights and not woke Disney's soundbite. Your stance to protect our children is greatly appreciated. God bless you and your family.
To quickly learn more about this situation:
https://prayingmantis.substack.com/p/the-unhappiest-place-on-earth
Get informed on HB1557: https://www.flgov.com/2022/03/28/governor-ron-desantis-signs-historic-bill-to-protect-parental-rights-in-education/
Women Impacting the Nation (WIN) is affiliated with Defend Florida in support of Parental Rights.
Best regards,
Debbie
About Call One Day________________________
When those who govern fear the people, they will govern wisely.
The Goal
For Defend Florida to become a politicians worst nightmare or their best ally. Ultimately, for Defend Florida's leadership to be granted a golden pass to any elected or government official so our message and solutions will be enacted with expediency.
The Premise
Save for the few exceptions, most elected officials only care about the voters when it is election time. If we develop the reputation that Defend Florida can summon/activate the voters at a statewide level, they will understand we are a force that can alter (or aid) their political aspirations.
The Opportunity
The "Call One Day" initiative (COD): designates one day a week for Defend Florida's membership and affiliates to flood the politicians with phone calls. This approach accomplishes the following goals:
1) Legislators will understand we are active and our reach is state wide.
2) Voters will become used to making the phone calls regularly. When we actually need to mobilize our base to influence legislation, the action is familiar and easy.
3) Defend Florida becomes a brand.
4) Voters are engaged and informed via the call script.
You can all join by texting SPEAK to 91776 and you'll receive your first instruction. Keep in mind that one phone call translates into 100 votes. This is something everyone can do that is relevant but easy.